Monday, May 20, 2013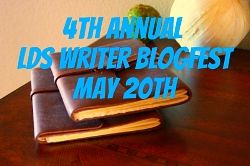 I'm excited to be a part of the 4th Annual LDS Writer Blogfest. It's interesting to stop and think about how my faith and beliefs impact me as a writer. Lately, my family has been on a huge quest to slow down and enjoy being together and serving others more, basically trying to focus more on the things that matter most. Sometimes the hardest thing for me is balance. I love what Marjorie Hinckley says about this, "Life is full of challenges. Many of them involve balance and temperance. Complete abstention may be much easier than moderation. It's easier for me to completely abstain from smoking than to try to balance my day – a little for this, a little for that, a little for him, a little for her."
It's almost easier for me to become completely immersed in writing or completely immersed in family rather than achieving a good balance and putting the most important things (serving others, my family, and my faith) first. I have found the key to this is relying on The Holy Ghost for inspiration and direction. If I sit down to write and feel prompted to work on a different project, I do it. If I sit down to write and feel I should snuggle my 2yo and watch Chuggington instead, I try to do it (the snuggling part is fun but wasting time watching television has never been fun for me!).
Our lives are a constant balancing act, but having the inspiration from above can really help us to stay on track, accomplish the things that matter most, and be happy throughout the process.
Please read some of the thoughts of other LDS Writers, they are some inspiring people!