Monday, October 19, 2015
​Last in the lineup, but certainly not least, is Heather Tullis. Honestly, I can't believe what this woman can get done. She has blessed me with her talent over the past five years as my book formatter and we've worked together on other projects. I cannot believe how smart and talented she is. Plus patient with me when I make mistakes! So, getting to the point, I'd like to introduce you to
Bestselling Author Heather Tullis
HEATHER TULLIS has been reading romance for as long as she can remember and has been publishing in the genre since 2009.
That's amazing! Do you know how many people start out to write a book and never finish and she's been at this over 6 years!!
She has published more than twenty books.
Ta-da! See what I mean about being organized and needing her energy?
When she's not dreaming up new stories to write, or helping out with her community garden, she enjoys playing with her dogs and cat, inventing new ways to eat chocolate,
(now you know why we get along!)
and hanging out with her husband. You can connect with Heather at h
ttp://heathertullis.com/
or at
http://www.facebook.com/HeatherTullisBooks
On the Lighter Side
This has become my favorite part about the spotlight because I get to learn something new about each woman. When asked to give me 5 random facts about herself, this is what Heather said:
I like to bake and make up recipes.
I am an EMT-A and worked on a volunteer ambulance service for five years.

(Good woman to have around.)

At one time, I owned over 150 chickens, ducks, geese, guineas, and other assorted fowl.
All four of my current pets are named after sweet foods.
I once laid 1800 square foot of tile flooring in a building we owned. (

Heather in a bottle-better than 5-hour energy!)
Snippet
I know you were waiting for this one. Here's the snippet from
One Winter Night
by Heather Tullis: Jonah stared at the invoice and wondered where he was going to come up with the money. Was there any prayer that he would make enough in the opening two weeks of the gallery to actually pay the incoming bills? Never mind the artists' commission on top of the expenses. His friends were putting a lot of trust in him and he didn't want to let them, or himself, down. He didn't know how to do anything but draw and paint—or at least that's what he'd believed. When he lost that, he'd realized he had learned a few things at his college job, and there was this option. If he hadn't made so many contacts and so many friends, the gallery wouldn't have been an option. Only now he had to make good on his promises, and with a little over a week until the gallery opened, he wasn't sure that was possible. If sheer desire could make it happen, he would have no need to worry, but that wasn't enough, and the prep on the building still wasn't done. He just hoped the advertising and word of mouth he'd been working on would bring people in—no matter what condition the building was in on opening day. He filed the invoice to deal with after he'd made a deposit or two then walked back out to the showroom. The work to restore the space had finished only a week earlier, and he'd been busy framing pictures and uncrating items since. It was going slower than he had expected. Then again, maybe that had something to do with Sam—his nineteen-year-old employee, who apparently seemed to think the start time for work was flexible. Jonah sighed and checked his watch again. He only trusted the kid to work for a couple more days, and then he'd have to let him go. Sam wasn't a terrible employee, but he wasn't exactly stellar, either, and he wasn't someone Jonah trusted to handle some of the more valuable pieces—especially after some of the less graceful moves the kid had made: knocking over displays, dropping one canvas, and breaking one side support, making Jonah re-stretch it. Jonah got back to work on a frame for one of his own paintings, one he'd done a couple of years earlier. It had been far too long since he'd put paint to canvas. Or maybe it had just been too long since he'd been able to do anything that wasn't plain mediocre. He ached for the way painting used to make him feel. He looked at the painting of a mother and child playing in the park and remembered the way he'd planned the longer sweeping strokes, the care he'd used to select the perfect shades of color and the way instinct, coupled with years of practice had guided his hand. This piece had gotten attention at the previous gallery where it had been placed, but it was one of three pieces that hadn't sold during the consignment period, and when Jonah had been unable to produce anything else, the gallery owner had offered to let him take them back. Now he wasn't sure if it was more painful to see it as a reminder of what he'd lost, or more hopeful as a reminder that he might, someday, have it again. He was almost loathe to sell the three final paintings, though he desperately needed the money. Like painting, framing was both art and science, and took his concentrated effort. Thankfully, it didn't seem to need as much of the muse as painting had, though he could become just as engrossed. Another thirty minutes passed before Jonah thought about Sam again, then, irritated, he picked up his phone to call the kid. Sam answered the phone, his words tripping over themselves. "Oh, Jonah, I'm so sorry. I should have called, I just wasn't thinking." "You weren't thinking that you were nearly an hour late for work?" Jonah knew he wasn't succeeding very well at keeping the irritation from his voice. "I was in an accident on the way there." His voice held a slightly shaky quality. "I didn't think to call you. I'm so sorry. It's been crazy." Jonah set down the stack of matting samples, focusing closer on the conversation. "What happened, are you okay?" "I broke my leg. The x-rays just came back. The doc says it's going to be a couple of weeks before I'm up and around. Even then I'll probably have crutches. I still have to get my cast. I'm sorry I won't be able to help you out any more." Jonah felt bad for his earlier irritation. "Oh, man, that's terrible. Do you have someone there for you?" Not that he could afford to lose even a little more work time if Sam was already out of the picture, but no one deserved to sit at the hospital by themselves. "My sister is coming from Albany to pick me up. I'll visit her for a while. My car is totaled. Not sure how I'll get around. Idiot driver hit me at the intersection." "Don't worry about work. I'm sorry this happened to you. Take care of yourself." Jonah wished him well and ended the call. He did feel bad for Sam, but dang it, he didn't know what he was going to do without the help. Sam was only hired on a temporary basis, but Jonah went from somewhat overwhelmed to super stressed in a heartbeat. "Eighteen-hour days, here I come." He remembered his grandma was expecting a visit in a little while and decided to put it off today. She would understand if he had to change his visiting schedule to every-other day until the gallery was up and running. The thought made him feel bad, but he didn't have much choice at this point. He picked up the phone to call her.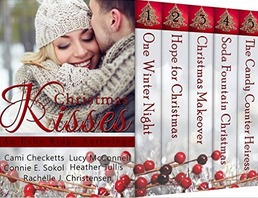 Enter Giveaway